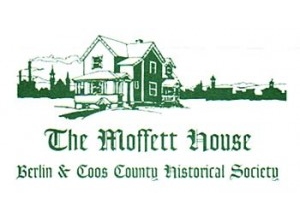 The Moffett House Museum and Genealogy Center
119 High St.
PO Box 52, Berlin, NH 03570
603-752-4590
www.berlinnhhistoricalsociety.org

The Moffett House, home of the Berlin and Coös County Historical Society, has been a favorite of residents and visitors alike since its opening in 1997. The only historical society and museum to be open year round in Coös County, this 14 room Victorian home served as the residence and professional offices of the late Dr. Irving Moffett and his wife, Mrs. Mary Moffett from 1949 to 1993. The museum, located at 119 High Street in one of Berlin's historic neighborhoods, recalls Berlin's bygone days. It offers a treasure trove of items from Berlin's past, including photographs, manuscripts, advertising china, and mementos; as well as sports, Boy Scout and military items. The Moffett House also houses an exceptional collection of Brown Company memorabilia covering all aspects of its manufacturing and logging history. For those who wonder what it was like to be treated by an osteopath, Dr. Moffett's restored medical offices give visitors a glimpse into what an osteopath's office looked like in the post-World War II era.
For genealogy buffs, The Moffett House's Genealogy Center houses the largest library of records north of Manchester. For reading buffs, we have a large selection of autographed books by local authors, postcards depicting vintage scenes as well as the highly acclaimed documentary, "At the River's Edge." Please stop by the Moffett House to research your family roots, and ask one of the friendly volunteers to assist you in tracing your family tree!
Open Tuesday through Saturday 12-4 or by appointment. Contact Odette Leclerc, curator @ P.O. Box 52, 119 High Street, 603-752-4590 or 603-752-7337.