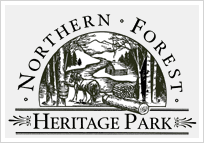 Northern Forest Heritage Park
961 Main Street, Berlin, NH 03570
603-752-7202
www.northernforestheritage.org

Have you ever wondered what a lumberjack camp looks like? Northern Forest Heritage Park was established in 1994 to preserve and interpret the history of the working forest and celebrate the multi-cultural heritage of the Great North Woods Region. A museum is housed in the historic 1853 Brown Company House which highlights memorabilia tracing the history of the Brown Company, as well as items relevant to Berlin's past. Stroll through the circa 1890s replica logging camps and beautifully landscaped grounds across the street from the Brown Company House,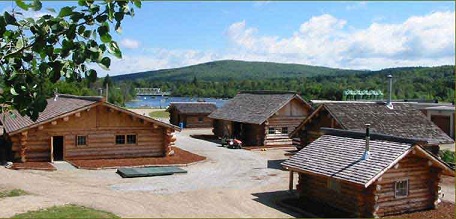 while gazing at the historical Androscoggin River. Remember to set your calendars for upcoming summer events and festivals and make plans to enjoy an unforgettable day at the park. The outdoor amphitheater is a great place to watch the entertainment. While you're at it, make time for a pontoon boat ride up the Androscoggin piloted by a licensed boat captain who is a genuine history buff. Listen while your captain enlightens you about Berlin's unforgettable story. View the large outside paintings covering the windows on the historical Brown Company Research and Development buildings painted by talented Plymouth State University students.
Group Tour & River Boat Tour information, upcoming events, schedules and times of operation can be found at www.northernforestheritage.org or call 603-752-7202.