Berlin Is Four Season FUN!
Lots of folks think the North Country is boring but they surely have us wrong. Berlin has GREAT events happening all year long, and here's just a few highlights. Be sure to check the Chamber of Commerce website for more!
APRIL
Brewtopia 2012
A beverage lover's delight! Come spend a relaxing evening tasting some of the area's finest concoctions! Held the last Friday in April at the White Mountain Chalet on the East Milan Road in Berlin. FMI: (603)752-6060 or www.androscogginvalleychamber.com.
MAY
Writers' Conference & Book Festival - Saturday, May 19
The Annual Writer's Conference & Book Festival, featuring writers, book signings, book and crafts sales and a "Literary Flash" competition will be held Saturday, May 19, at the Northern Forest Heritage Park. Sponsored by the New Hampshire Writers' Project, the Northern Forest Heritage Book Writer's Conference and Book Festival will showcase many authors from the immediate area, regional authors and books. Book and crafts vendors will set up early morning and remain throughout the day. The Writer's Conference will begin with an overview of writing and publishing in New Hampshire by George Geers, executive director of the Writers' Project. The morning continues with workshops and breakout sessions on writing by well-known New Hampshire writers.
The afternoon will consist of free programming showcasing writers of the New Hampshire Writers' Project. Authors will read from their work, answer questions and sign books, which will be for sale from regional bookstores and publishers.
There will be a literary competition held from 3:00 to 4:00 PM. Literary Flash is one of the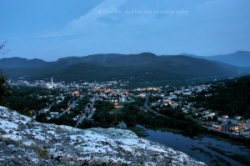 New Hampshire Writers' Project's signature events, culminating in a final showdown at the annual Writers' Day conference, on a date to be determined. At this competition, the North Country finalist will be selected. Each contestant gets three minutes to read a complete piece of original fiction in front of an audience and a panel of judges. Literary Flash is free and open to the public. The competition is limited to eight writers. Pre-registration is required on a first-come, first served basis. Although there will be a fee to attend the Writer's Workshops, admission to the Park is free. Please call 603-752-7202 for more information.
JUNE
Cultural/Heritage Festival - Sunday, June 3
The Cultural Heritage Festival is a full day of festivities for all ages. Canadian, German, Irish, Italian, Native American, Norwegian, Russian and Scandinavian descendents especially will not want to miss this Festival. This Festival is centered on cultural foods and the Food Fair will be outstanding. Chefs of well known local restaurants along with local volunteers will prepare foods from all of the various cultures, including Bean-Hole-Beans, Canadian Ragout, Cretons, Poutine, Russian Cabbage Rolls, German Bratwurst & Sauerkraut, Norwegian Meat Cakes, Italian Lasagna, Canadian Meat Pies & Coleslaw, Irish Soda Bread, Cherokee Brunswick Stew and more. There will also be the traditional American BBQ station serving hotdogs, burgers, and fries. All foods will be sold at the door. There will be plenty of entertainment, artisans, crafts, vendors, homemade sweaters and farmers market. Discounted Androscoggin River Boat Tours will operate all day. Free Admission to visit the various vendors in the Park and to take of advantage of the discounted boat tours!
Drive In the 50's - Thursday, June 7
Join thousands of auto enthusiasts on Berlin's Main and Pleasant Streets as you stroll down memory lane. Come see this vast display of beautiful cars spanning decades of driving fun! While you're at it, try some delicious food at one of the many vendors during the event, and make a new friend or two while you're there. FMI: (603)752-6060 or www.androscogginvalleychamber.com. Subject to change due to inclement weather.
River Day/WINGZILLA - Saturday, June 16
River Day, a day of celebrating the Androscoggin River, is a day full of things to do and see. There will be a "parade of boats" or anything that floats where all are invited to show their ingenious floating creations and parade down the river. FREE River Boat rides for children 11 and under from 10:00 AM to 4:00 PM (accompanied by a paying adult). There will be seminars, workshops and aquatic displays. Ice cream, cotton candy, fried dough and French fries will be served all day. There will also be children's activities including games, petting farm, crafts, log rolling & fishing contests and face painting. In conjunction with River Day, WINGZILLA is an all-day fun occasion you and your family won't want to miss. Wingzilla is a Barbeque Chicken Wing Cook-Off Competition and "Luck of the Draw" Horse Shoe Tournament! Cash prizes awarded to the winners of both competitions! There will be a Beer Tent all day! Come, enjoy the show and tantalize your taste buds with BBQ Chicken Wings as you've never experienced. Enjoy discounted Androscoggin River Boat Tours all day!
SUMMER
North Country Men's Basketball League
Made up of ten teams sponsored by local businesses , the young players who comprise these teams are not only dynamic and talented, but also fun to watch! With players represented from all over the North Country and beyond, you won't find fast-paced men's basketball like this anywhere else! The basketball league, founded by local athlete Jesse Arsenault, has attracted a large following and has grown by leaps and bounds since its inception two years ago. Games are played at the Berlin Junior High School gymnasium Thursday and Friday evenings and are held from late June until early August. Admission is free. FMI: Jesse Arsenault (founder and president) at (603)723-6698, or Joseph Arsenault at (603) 915-6096, or follow us on facebook at north country men's basketball league. Interested in signing up for the summer league? Sign –ups begin December 26th!
SEPTEMBER
Arabian Horse Club of America Time Trial Competition and 100th Anniversary Celebration
Did you know that Berlin is the birthplace of the Arabian Horse Club of America? Since the club's founding in 1912 by William Robinson Brown, the Arabian Horse Club of America has gone to great lengths to preserve the tradition and integrity of this important horse breed. As the club prepares to celebrate its 100th anniversary, The Berlin and Coos County Historical Society has partnered with the members of the Arabian Horse Club of America to bring these majestic horses to Berlin on Saturday September 15th, 2012 for a day consisting of 50 and 25 mile cross-country endurance races, as well as a 10 mile recreational ride. Come share in the fun! FMI: Berlin and Coos County Historical Society/Moffett House Museum, 119 High Street, (603)752-4590 or contact Walter Nadeau, vice-president and event coordinator at (603)752-7928 or www.berlinnhhistoricalsociety.org.
Lumberjack Festival
Sunday, September 30 The 12th Annual Lumberjack Festival & Competition features fast and competitive action. Last year's event attracted 75 competitors in several challenging events. The day will start at 6:00 AM with a Lumberjack Breakfast prepared by the outstanding chefs of the Friendship House in Bethlehem NH! Events such as cross-cut, modified chainsaw, stock chainsaw, women and men's axe chop, women and men's axe throwing, women and men's standing block chop, 2 person log rolling and more are sure to thrill! There will be a Log Rolling (Burling) contest and metal fishing derby for children, along with other children's games. All are welcome to flex their muscles with the Fry Pan Toss & Log Throw for adults with cash prizes awarded for the furthest throw and toss. NFHP's Fabulous Food Fair & Bean Hole Beans will be offered all day. A $5.00 admission fee for 12 years and older will be charged at this event. Under age 12 admitted free while accompanied by a paying adult. Enjoy discounted Androscoggin River Boat Tours all day.
OCTOBER
Riverfire/Horror Fest - Saturday, October 20th
River Fire is presented by the Androscoggin Valley Chamber of Commerce, Berlin Main Street Program, Northern Forest Heritage Park and Theatre North. Voted "Best of NH" 2007 by New Hampshire Magazine. Riverfire burns bigger and brighter every year! Last year's event drew an estimated 5,000 people! There will be a duck race on the Androscoggin River at 3:00 PM. There will be hayrides, a Children's Costume Parade and bouncy houses. Stroll on the beautiful River Walk, warmly illuminated with Tiki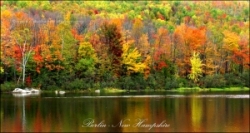 Torches. The River Walk leads to a wonderful and sometime eerie display of intricately carved and lighted pumpkins on the walking bridge. Rounding out the evening is a variety of entertainment, an impressive number of food & beverage vendors and the spectacular Riverfire lighting ceremony at dusk! The Logging Camp will be turned into a haunted village presented by Theatre North. The haunted village grows more chilling and creepier every year and promises to be a thrilling and spooky experience you will not want to miss nor will you soon forget! Come and enjoy all of this and more!
DECEMBER
Heritage Holidays - Saturday, December 8
And the Grinch, with his Grinch-feet ice cold in the snow, stood puzzling and puzzling, how could it be so? It came without ribbons. It came without tags. It came without packages, boxes or bags. And he puzzled and puzzled 'till his puzzler was sore. Then the Grinch thought of something he hadn't before. What if Christmas, he thought, doesn't come from a store. What if Christmas, perhaps, means a little bit more. ~ Dr Seuss Christmas is a time for Families, Fun, and Festivities, a time of family gatherings and holiday meals. Christmas is a time for ornaments, gifts, and twinkling lights. Come to Northern Forest Heritage Park as we partner with Theatre North to celebrate Heritage Holidays on Dec. 8, 2012! Savor a Holiday Ham Dinner with all the Holiday fare! The Park will be open with free admission and encourages everyone to walk through the Park to visit the festively decorated cabins. Have your picture taken with Santa and Mrs. Claus, take a hay ride, enjoy Norwegian Krumkaka and Kransakaka, help yourself to hot chocolate and Partridge in a Pear Tree cookies or roast marshmallows over an open fire! Theatre North will present a Christmas themed play just right for the Heritage Holidays celebration! Dinner will be served at 5:30 in the Logging Camp Cookhouse and Bunkhouse! The Theatre will be presented at 7:30. Cost to attend the Dinner & Theatre is to be determined. Please call Northern Forest Heritage Park at 752-7202 for more information.