Berlin Is A Great Place For Family Recreation
Berlin isnít just for shopping and great food! There are tons of things for whole families to see and do!
Do you like History? Imagine the life of a prominent doctor during the Great Depression and beyond. Visit the Berlin and Coos County Historical Societyís Moffett House Museum and Genealogy Center at 119 High Street. This 1892 Victorian home comprised of 14 rooms once served as the osteopathic offices and residence of Dr. and Mrs. Irving F. Moffett. See the large collection of Berlin artifacts on display. Look through the many photographs of Berlinís past, and feel free to research your family heritage in our genealogy library! Hours: Tuesday through Saturday 12-4 or by appointment.
FMI: Odette Leclerc (curator) (603) 752-4590 or (603) 752-7337. www.BerlinNHHistoricalSociety.org
Visit the Northern Forest Heritage Park for interactive exhibits focused on the working forest. Visit the logging camp exhibit and its many buildings to get a full understanding of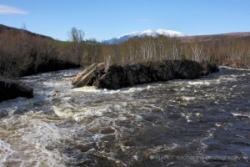 what is was like to live and work at a period lumber camp. During the summer months and beautiful fall days, treat yourself and the family by taking a pontoon boat ride up the Androscoggin River for a narrative tour on one of the most beautiful rivers in the northeast.
FMI: 961 Main Street, (603) 752-7202 or www.northernforestheritage.org
Do you like outdoor sports? Berlin is definitely your destination! Great fishing opportunities abound in the Androscoggin River Valley and in area ponds, lakes and streams where bass, trout and salmon are abundant. For the hunter, the north country is good for all types of game including deer, moose, bear and turkey hunting.
Berlin is also the home of the new Jericho Mountain ATV State Park which happens to be the largest ATV park north of the state of West Virginia. Berlin is also on the interstate snowmobile trail system and like the ATV park offers miles of beautiful trails and scenic vistas to experience.
Be an insider by joining the Androscoggin Valley ATV Club by volunteering to ride and put on events on the Jericho Mountain ATV Trails or the Success Trail System.
FMI: Androscoggin Valley ATV Club, P.O. Box 534, Berlin or at info@atvclub.org
Give the White Mountain Ridge Runners Snowmobile Club a try as you breeze through the well-groomed trails of Berlin and points north.
FMI: White Mountain Ridge Runners, 235 Jericho Road, Berlin. (603) 752-5402
For the cross-country enthusiast, the Nansen Ski Club offers miles of beautifully maintained cross-country ski trails at Milan Hill State Park in nearby Milan, NH. The ski club, founded in Berlin by Norwegian immigrants in 1872, is the oldest ski club in America. On your way to the trails, youíll drive by the Nansen Ski Jump on Route 16 just across the Berlin line in Milan, which was the site of many ski jumping winter carnival events over the years including ski jumping trials for the Winter Olympics. The Nansen cross-country trails are located in Milan on the grounds of Milan Hill State Park on Route 110B. FMI: 427 Milan Hill Road, Milan or at info@skinansen.com
Do you like indoor sports? For the hockey fan, the Notre Dame Arena has played host to anything hockey for many years. Generations of players have called the arena home and continue to learn how to skate and play hockey through the many leagues at the arena. Public skating takes place in the fall and winter months on Friday evenings from 6-8pm. Hockey games and tournaments take place throughout the season. Catch the thrilling excitement of both the Berlin High Mountaineer Menís and Womenís hockey games! FMI: 15 Hillside Avenue, Berlin. Manager: Norman Duchesne (603) 752-9846 (Home) or at www.notre dameareana.org
Do you like science? The Berlin Fish Hatchery is located just north of Berlin. This state owned fish hatchery and visitorís center is a great way to see how native trout and salmon species are raised and cared for before they make their way to be stocked in a local pond, brook or river. Take a couple of hours to see the fish and possibly feed them while youíre at it! Itís a fun time for all ages.
FMI: Berlin Fish Hatchery, 3783 York Pond Road, Berlin. (603) 449-3412. Open late May through mid-October. Located off of Route 110 just across the town line in neighboring West Milan.
Do you like the arts? The St. Kieran Community Center for the Arts, located at 155 Emery Street in Berlin is proud of bringing popular cultural events to Berlin and the North Country. This lovely turn of the century former church building features a great venue for providing fine entertainment since 2001. A full schedule of upcoming events for 2012 is available. FMI: (603) 752- 1028 or www.stkieransarts.org